Regular price
$990.00 USD
Regular price
Sale price
$990.00 USD
Unit price
per
Sale
Sold out
Share
v e s s e l ⊹ custom work (larger size)
If you are interested in a v e s s e l piece unique to you and your specific energetic aims, you can work with the artist directly to co-create just that.
When you place a custom order below, the artist, Caitlin Scholl, will contact you to set up a 30-minute zoom session in which to discuss what you envision. These meetings are part open share and part interview: You will have time to explain what you're experiencing and/or envisioning, and she will ask you a series of questions that help her get to the root of what needs to be opened, supported, blocked or rerouted. 
After the session, Caitlin will create your new work! Please expect a 2 month window for your painting to arrive. 
Customizable options include:
⊹ choosing an existing sigil that you've seen, read about, or are just drawn to
⊹ having Caitlin create a new sigil just for you and this work
⊹ color: discuss colors you like, don't like, background colors, sigil colors
Options that are not customizable with this order:
⊹ Canvas size / dimensions. This order's framed dimensions are W 33.25" x D 2" x H 19.25". Custom solid wood frame by Art House Picture Frames in Portland, ME, included at cost. 
⊹
At checkout, there's an option to offer a Loving Kindness Donation alongside your purchase of this work. This donation will help support the artist with the costs and care involved in her treatment for breast cancer. 

In addition, 15% of all proceeds from the v e s s e l collection will be donated to Family Reach, a non-profit "dedicated to removing the financial barriers standing between a cancer patient and their treatment. Loss of income, out-of-pocket expenses, and socioeconomic factors create disparities in the financial burdens families face. Family Reach delivers emergency relief funds to patients and caregivers facing a cancer diagnosis so no family has to choose between their health and their home."
Thank you all for your support ~ 
⊹
Please contact caitlin@friendenergies.com with any questions about your order.
⊹
Photos by Phoebe Parker Photography
View full details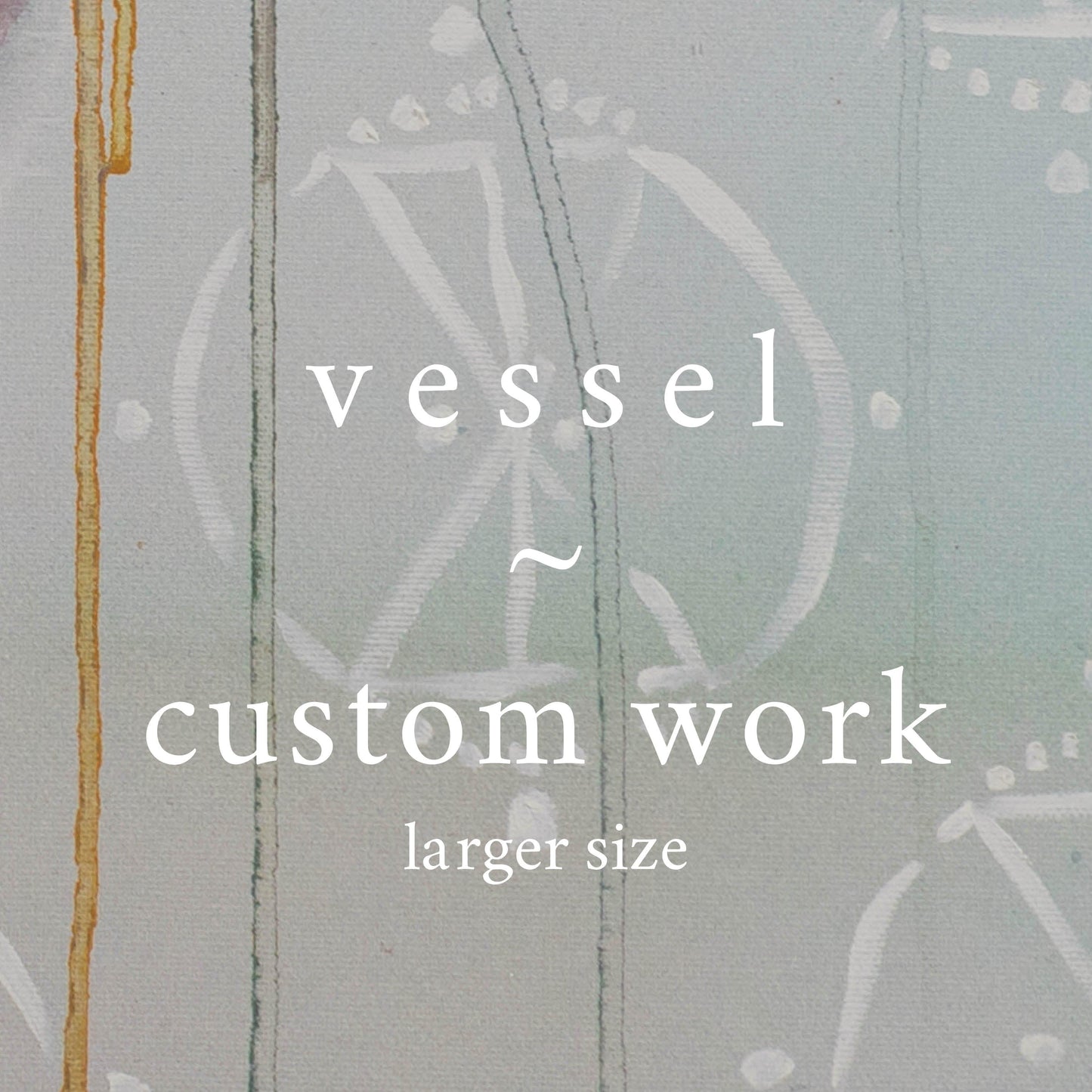 Shipping

Please allow up to one month to ship as works are framed upon purchase. Contact us if you have questions!

Returns

Please contact us if your work is damaged upon arrival and we can find a way to remedy the situation. Beyond unique situations due to shipping damages, we do not offer returns on artwork.